This post contatins affliliate links. If you click on one of these links and then make a purchase from the linked advertiser, I'll make a commission at no extra cost to you. Click Here to read my Privacy Policy and Affiliate Disclosure.
Looking for the Best Half Racks for your Home Gym?
Half Racks are a fantastic option for a Home Gym because of their small footprint and sometimes lower cost.
Read this guide before you click on a link to a site written by someone who doesn't even lift!
It's easy to make a mistake and get a half rack that will leave you wishing you had purchased something better. Luckily we are here to help you!
Quick Navigation
In a hurry? Here are our top picks!
Our Picks
#1 - The Rogue Fitness SML (Monster Light) Series Racks
Quick Review Video

What we think
Rogue Fitness Monster lite series consists of squat cages/power racks and squat stands/half racks. The half racks are included in the SML series whereas the power cages are included in the RML series that we have already reviewed. 
As mentioned above, the SML series monster lite products are half racks with two uprights and a base. The SML 1 doesn't have a pullup bar. The other two come with an option of a single skinny bar or a dual fat/skinny bar. 
As expected, the SML monster lite series half racks have a 3" X 3" 11 gauge steel frame. They can bear 1000lbs of weight. They have a compact footprint and one of them is even foldable and wall mountable. You get an option to choose from three different heights, depending upon the availability of space. No matter what you choose, all of them are suitable for fitness enthusiasts who need something beastly and reliable. 
Just like any Rogue product, the SML monster lite series half rack is expensive, considering that you will have to buy the spotter arms and floor anchoring kit separately. 
Pros
Heavy-duty product with 3" X 3" thick frame
Has compact footprint
Available in three different heights including the one meant for areas with low ceiling
Comes with lifetime warranty
Cons
Pricey for what it is
Spotter arms sold separately
Floor anchoring kit sold separately
Summary
Great product for people who are rather serious about their workouts. Affordable alternatives available though.
Rating
We are giving this a rating of 4.5 out of 5.0.
#2 - Titan T3 Series Squat Stand/Half Rack
Quick Review Video

What we think
Titan Fitness T3 series squat stands/half racks  are one of the most affordable products suitable for beginners, intermediate-level trainers, as well as recreational lifters. They are available in three different heights the shortest one being just 72″ high.
The Titan T3 series short squat stand/half rack is not suitable for calisthenics because it doesn't come with a pullup bar. Thats because it is meant to be used in low ceiling areas. The floor anchoring holes and weight holders are missing too but that's OK. You anyways don't them for weight training.
Titan T3 series short stand/half rack is made of 2″ X 3″ 11 gauge steel frame that is rated to be safe for up to 1000lbs. It features Westside hole spacing pattern in the benching area and 2″ gap in the rest part of the uprights. A pair of j-hooks is included with the kit but you may want to buy a pair of spotter arm for benching exercises.
Assembly instructions could have been better.
Pros
Commercial grade equipment available at an affordable price
1000 lbs weight capacity, which makes it suitable for beginners and intermediate level trainers
Can be easily disassembled for transportation
Westside hole pattern for extra comfort and safety
Welds are neatly done unlike other older Titan products with unprofessional-looking welds
UHMW coating in j-hooks for preventing scratches to your equipment
Frame is powder-coated to prevent rusting
Free shipping
One year warranty
Cons
No option to anchor the frame to the floor. You wouldn't need to anchor it as it is extremely stable and yet, Titan should have added floor anchors for people who still do not want to take a chance.
The holes are not numbered. This isn't really a big issue but numbering eliminates guesswork and helps you get started immediately. Moreover, only a handful of squat stands have numbered holes.
There are no storage pegs at the base. Storage pegs help keep your weight plates organized as well as for weighing down the unit.
Summary
Fantastic affordable squat stand/half rack available on a budget.  
Rating
We are giving this a rating of 4.5 out of 5.0.
#3 - Hulkfit half rack/squat stand
Quick Review Video

What we think
Hulkfit half rack/squat stand is one of the cheapest half racks meant for beginners and casual trainers. Do not misjudge it due to its low cost; it is indeed a good product for people who need a very basic squat rack that they can use for weight training. 
As expected from a budget product, the Hulkfit half rack does wobble and needs to be weighed down, especially if you are planning to use it for bodyweight exercises. There are weight pegs at the rear end that you can use for weighing it down or maybe you can bolt it to the floor or your weightlifting platform. 
Another common issue with the Hulkfit half rack is that the j-hooks wear out sooner than expected. 
Nevertheless, as mentioned above, it is a good quality rack meant for home use by people who are not planning to train with more than 250lbs of weight any time soon. 
Pros
Highly affordable
Has weight pegs for holding the plates and weighing down the rack
Easy assembly
Perfect for beginners and casual trainers
Cons
Weighs just 60lbs and needs to be weighed/bolted down for stability
The pro version is not a value-for-money product as better alternatives are available
The j-cups are not of good quality and may wear out within a few months if used daily
Summary
Decent product for recreational purposes.
Rating
We are giving this a rating of 4.2 out of 5.0.
#4 - Fitness Reality Multi-Function Half Rack
Quick Review Video

What we think
Priced around $200 (at the time of writing this article), the Fitness Reality Multifunctional half rack is one of the best products for beginners and recreational lifters. Do not expect too much from it because it is after all an affordable products. Yet, it is decent enough for most of us. It has a 2″ X 2″ 12 gauge frame, which is pretty common in this price range. The holes have 3″ gaps between them which could be an issue if you are planning to use it for benching. Many buyers have reported that it wobbles, especially when used for bodyweight exercises. But, that's a common issue with all budget racks. You anyways can weight it down to eliminate the wobble. Highly appreciate that the manufacturer has included a landmine attachment so you can do a lot more variety of exercises.
Pros
Does not take up a lot of space.
Easy to put together.
Very affordable price.
Comes with interesting accessories like the land mine attachment.
Cons
Not a super duty half rack like some of the Rogue Fitness half racks.
Has a bit of wobble to it though that can be cured by weighing it down.
Not a super well-known brand like Rogue Fitness, Brat Fitness or Tighten Fitness.
The overall height of the half rack leaves a little bit to be desired.
Summary
Best budget half rack but buy only if you are comfortable with 3" hole spacing
Rating
We are giving this a rating of 4.0 out of 5.0.
#5 - Sunny Health & Fitness Power Zone Squat Stand Rack Power Cage SF-XF9931
Quick Review Video

What we think
Although Sunny Health And Fitness SF-XF9931 half rack/squat rack is a very basic product, it is suitable for almost all of us who want to stay fit from the comfort of our homes. The frame seems heavy-duty and the stability is exceptionally good at this price point. It does wobble but you can bolt it to the floor or weightlifting platform or weigh it down using the weight pegs at the backside of the frame.
The hole spacing is 3″, which is also a standard feature in most affordable squat racks. If you are planning to use it for benching, it may not be the most comfortable option. The major issue that most buyers have experienced with this product is its non-standard hole sizing. This means you may not find compatible accessories.
Pros
805 lbs weight-bearing capacity, which is decent enough for this price range
Angled pullbar up
Comes with spotter arms and j-hooks
Good stability with options of weighing it or anchoring it to the floor
Easy assembly
Cons
Poor customer support team
Poor shipping and handling
Non-standard hole size
Summary
One of the top-rated squat rack suitable for most home gym owners.
Rating
We are giving this a rating of 4.0 out of 5.0.
#6 - Fitness Gear Pro Half Rack
What we think
Fitness Gear Pro Half rack is known for its compact footprint and its highly versatile design. You can use the adjustable pullup bars as dip handles, which means, you can do more number of exercises without investing in a separate product. It has a 3″X3″ frame plus there are 6 weight holders at the rear upright of the frame. All these help make it a highly stable squat rack. But, since it is made of 14 gauge steel, we recommend it only for beginners and casual trainers.
Pros
Taller than most budget-friendly half racks
The rear stability bar is raised so you can slide your workout bench and perform various decline exercises
Frame is wider so issues of wobbling are very minimal
Comes with pullup handles that can be used as dip bars
Cons
Currently too pricey than it should be
Summary
Good option for people who need a versatile product
Rating
We are giving this a rating of 4 out of 5.0.
#7 - Sunny Health & Fitness SF-BH6802 Half Rack
What we think
If you are looking for affordable ways to accessorize your home gym to begin your weight training journey, the Sunny Health & Fitness SF-BH6802 half rack should be a good option for you. It is rated for 800lbs but we do not recommend it to anyone who wants to lift more than 350lbs because after all it is not that heavy-duty product. The build quality is decent enough for most people except athletes. It comes with almost all possible accessories that you may want to add to your half rack. Plus, there are weight horns and floor anchoring holes so you can weigh it down to eliminate any wobble. 
What we don't like about the Sunny Health & Fitness SF-BH6802 is its non-standard frame size, which makes it difficult to find compatible accessories but you can always buy them from the manufacturer. Another thing that you should note is that the buyers of this product have frequently reported receiving beaten up packages and missing parts. Nevertheless, it is still a great option available at a decent price.
Pros
One of the most affordable yet well-build half racks for home gyms
Comes with a bunch of accessories and add-ons
Can be bolted to the floor if needed
Has weight pegs that you can use to eliminate wobble
Westside pattern is a rare find in this price range
Cons
Non-standard frame size makes it difficult to buy replacements and accessories
Paint job is not that great
Shipping, handling, and overall quality control needs to be improved
Summary
One of the most affordable, fully-equipped half racks for beginners and recreational lifters.
Rating
We are giving this a rating of 4 out of 5.0.
Buying Guide and Frequently Asked Questions
Why a Half Rack?
It's no secret that I prefer a Full Squat Rack. But even I have to admit that there are times when a half rack can be a better option:
1. Takes up less space
A half rack can be a great option for reducing your foot print when you do not have a lot of space to workout.
2. Can be less expensive
A half rack or squat stand can also be more affordable than a full 4 post squat rack or power cage.
We have also seen though that they are sometimes more expensive than some of the more entry level full squat cages like those in our guide to the Best Cheap Squat Racks. So if you are purely looking at cost, then you might want to choose a full squat rack.
3. Cheaper to ship and easier to put together
A half rack can be cheaper to ship and a lot easier to put together than a full sized rack. This is because there is usually less material to ship and the shipping weight is usually less.
Whatever the reason you are looking for a half rack we have compiled the ultimate guide to the best Half Racks out on the market right now! If you see one we have missed then just please let us know in the comments below.
What is a half rack?
A half rack is a squat rack or squat stand with only two posts instead of 4. The reason it is called a half rack is because it has the two bars instead of four.
What is a half squat rack?
Same thing as a half rack.
Half-Rack vs Full Squat Rack
When comparing a full squat rack to a half rack it's important to note that the full rack is safer as when you are squatting inside of it, it is impossible for the bar to fall outside of the safety bars. However, a half rack doesn't offer the same level of protection.
Tips when searching for a good Half Rack:
Make sure you are getting long enough safety arms. You want to have plenty of room to easily catch the bar in the case of a failed rep.
Weigh the half rack down to keep it from tipping. This is why half racks with weight horns are such a great option.
How do you squat in a Half Rack?
Honestly just use it the same a regular rack.
Important: Be careful and make sure you don't back out to far out of the rack. You want to always be in range of the safety arms. That way you can safely dump the bar when you fail.
Don't think you will ever fail a squat?
Is a Half Rack worth it?
Absolutely!
A half rack isn't as versatile as a full rack. You can do very limited exercises and you can add very limited accessories to it. For example; you cannot add LAT pull down attachment to a half rack, limiting the way you can use it.
But, if you have very limited space in your home gym, you can still use it to perform enough exercises that can help you target almost all major and minor muscle groups of your body. It is still better than using weights without a rack, which is highly dangerous and not recommended at all.
Other than lack of versatility, a half rack is as much useful as a full rack, so yes, it is worth it.
What is a half rack gym?
A half rack gym is a setup that involves the use of half rack as the primary workout equipment and accessorizing it with various add-ons such as dip bars, landmine attachments, resistance bands and resistance band pegs, cable pulley system, adjustable benches or flat benches, etc. The lack of a full rack may restrict you from doing certain workouts but as we said above, with thoughtful planning, you will still be able to create the most space-efficient, functional, and motivational half rack home gym setup. Want to spruce it up? Add a motivational home gym banner/flag or redo the home gym lightings!
Who makes the best half rack?
You need to be careful while buying half racks because many of the affordable ones are manufactured and sold by Chinese companies that do not even have a customer support team. So, if anything goes wrong, you may not be able to reach them for help.
So, while searching for the best squat rack manufacturer, you also need to consider their customer support and quality control. And, all this could take time. We at Home Gym Strength consider all these aspects while selecting products for you so you get the most reliable recommendations from us.
Talking about who makes the best half racks, we have a few names that we have tested for a few years and never had a disappointing experience. Some of our favorite brands are Rogue, Fringe Sport, and REP Fitness for intermediate to advanced trainers and Titan Fitness, CAP Barbell, Hulk Fit, Fitness Reality, etc. for beginners to intermediate level trainers.
Is a half rack good enough?
Yes, it is! We already stated above that it can help you target almost all major and minor muscle groups and you can use it to do a majority of the popular home gym exercises. Thats more than enough for people who want to grow stronger and healthier.
Make sure you weigh down your half rack
Make sure you add some weight to the weight horns on the back of your half rack. Some people like to use sandbags. I usually just throw some spare 45s on them. Just get some weight on there.
You don't want to dump several hundred pounds on the safety bars of an unweighted half rack.
Bad things will happen.
What is hole spacing on a squat rack and why is it important?
For more info on hole spacing see this article dedicated to it.
How exactly do you squat?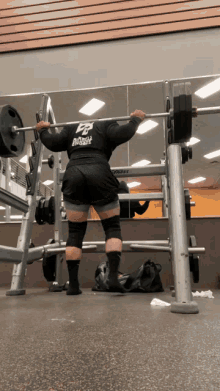 That is a little bit beyond the scope of this post. However you can check out our handy dandy guide here.
For this guide we are avoiding all half racks that do not have safety arms
If a rack doesn't have safety arms then you have no option to safely fail and we consider it more of a squat stand.
Squat stands do have their use though and if you would like to know more about them then check out our upcoming article on them.
Wrap Up
So that is it for our Ultimate Guide to the Best Half Racks you can currently get on the market today. As usual, let us know if we forgot anything in the comments below.