Our Top Picks Summarized
Can you just lift on cement?
"Cement is durable, so let's leave it as it is and just lift on it."
Don't believe it.
Even if you want to create a very basic home gym using a treadmill, a spin bike, a rowing machine, and some free weights like adjustable dumbbells and adjustable kettlebells, you should still cover the cement or concrete floor with some form of soft but firm material to protect your equipment as well as joints.
Here is why your bare cement or concrete floor is not ideal for a home gym (even though it is extremely durable):
Cement is slippery. Your equipment will slide off. You will slide off!
As we said above, cement provides no cushioning (nor does tile or wood floor). Basic cushioning will help protect your joints during bodyweight exercises or even otherwise.
Cement can damage your equipment. Just a small slip and your expensive Bowflex adjustable dumbbell will be of no use.
Cement gets pretty cold in winter. You need to cover it up with something that is comparatively less cold such as rubber mats or foam tiles.
Here are some of the best home gym flooring products that we recommend for covering up the cement floor of your garage gym:
With more than 25,000 ratings and thousands of 5-star reviews, the ProsourceFit EVA foam mat is one of the best home gym flooring options for garages and basements.
The foam tiles are ½" thick, so obviously they are suitable only if you are not planning to throw your weights on the floor.
EVA foam mats are not as dense as the rubber mats or horse stall mats that we will be reviewing below. They provide low impact-protection. So, if you are fond of deadlifts or Olympic weight training, or any other form of exercises where you will be using (and probably throwing) weights, ProsourceFit puzzle exercise mats won't be a good choice.
But, if you are a beginner or a casual home lifter, they can work for your garage or basement. They are also good to go under your workout equipment, as they can absorb a decent amount of noise and vibration.
Being puzzle tiles, they do come apart occasionally
But that's a common problem with almost all EVA foam puzzle tiles. If you do a lot of cardio workouts, you should choose a single unit instead such as the Gorilla Mats that we have reviewed below.
Many buyers have stated that you can duct tape the connections using gorilla tape or something equally strong. This helps keep them together for a long time. The below image has some instructions that one of the buyers has shared and we just love it!
The manufacturer keeps changing the interlocking pattern frequently, so order all you need in one go.
This is a frequently reported issue with the Prosourcefit EVA foam exercise mat. Some buyers, who had reordered them or ordered more than one set, got a batch that didn't match with the ones they were already using. The size was the same but the puzzle pattern and the texture were slightly different.
A few buyers have also reported that the color of the mats does not match. The difference is negligible though but it would be great if the manufacturer would have maintained consistency.
Our Rating: 4.7/5
They are also ½" thick puzzle-styled EVA foam mats suitable for placing your workout equipment such as spin bike, treadmill, etc. You can use light weights on them but they are not great for cardio because they come apart rather easily as stated by numerous buyers.
They slip on wet floor and tiles
And that could be an issue if you have a basement gym where it is pretty common to get some water or moisture on the floor. Some buyers have stated that the tiles could slip from their position or come apart. If that happens, you might lose your balance and fall.
The tiles are totally plain underneath. They should have had some kind of texture like the ProSourcefit exercise mats. Nevertheless, you can put some weight plates on them or anchor them to prevent such issues. Plus, water can make any surface slippery. So, this issue shouldn't be a dealbreaker.
Do not expect color and pattern consistency
Just like the Prosource home gym flooring mats, these ones also vary in color and texture pattern. If you order two or more sets, chances are there that they won't match. Thankfully, their interlocking pattern matches, so you don't have to struggle to lock them together.
Our Rating: 4.5/5
The Expensive But High Quality Option: Gorilla Mats
These mats are sold under the brand name 'Yo Gorilla', which is a renowned fitness brand that sells good quality exercise mats, specifically meant for home or light commercial use.
The best thing about these mats is that they are just one piece unlike puzzle mats that come in small squares and you need to join them together. Puzzle mats often come off while doing cardio or yoga. If you are into cardio, kickboxing, dance, calisthenics, yoga, etc. you should consider Gorilla mats instead.
The manufacturer claims that you can use them for weight training too but we disagree unless you are barely lifting more than 50lbs. That's because they are just ¼" thick!
They are ridiculously expensive
The current price for a 8′ x 4′ Gorilla home gym flooring mat is $180. Plus, you may have to pay for shipping. Not many of us would be willing to spend that much money, especially if we are not going to train with heavy weights.
However, these mats are great in terms of whatever they are. And, maybe their price is justified because after all they are made of eco-friendly material blended with non-toxic rubber and foam.
They are quite dense and heavy when compared to the EVA puzzle mats we have reviewed above and even otherwise.
They come with a lifetime warranty
That's another reason why they come with a hefty price tag. The puzzle EVA foam mats do not last beyond a few years. Plus, if you use weights on them, they could last even less. Glad to know this one could actually last a lifetime. However, please note that the manufacturer has stated that the warranty can get void if you use equipment or weights on it.
Comes with a free microfiber towel and a mat case.
They do not slip at all
You can use them on cement, tiles, hardwood, carpet, etc. You can use them with or without shoes. Thousands of buyers have mentioned that the mat's bottom has circular nubs that are grippy enough for almost all surfaces. The top surface might feel a bit slippery, especially when you have sweaty hands but not enough to make you feel unsafe and uncomfortable.
Our Rating: 4.5/5 (only because of its high price)
The Affordable and Popular Option: Horse Stall Mats
As we mentioned above, the EVA foam mats and Gorilla mats are not thick enough to protect your floor against damage, especially if you train with heavy weights or if you have the habit of throwing your weights when done. Plus, they won't last long when used roughly. Horse stall mats are a better alternative.
They are expensive plus getting them delivered to your home can cost you even more!
Each piece costs roughly $50 and measures 4' X 3'. You may have to buy 2 of them or more depending on how much area you want to cover or how dense coverage you need. If you are using the horse stall mats on tiles, you may have to layer them up to provide better protection to your floor.
Now, a major problem with these mats is that Tractor Supply Co doesn't deliver them for free. You will have to either pick them up yourself or you may rent a pickup truck or pay extra for delivery. Wherever you do, you will have to pay a decent amount of money to bring them home. For us, the final cost of each mat including the delivery charges was about $80.
They have an excellent shock absorption capacity
That's exactly why we bothered to spend so much time, effort, and money on sourcing them for our home gyms. No other home gym flooring products can match the shock absorption capacity of horse stall mats, making them more reliable for deadlifts, Olympic weight training, and all form heavy weight training.
If you are training moderately and do not intend to throw your weights, you can cover the entire floor with a single layer of horse stall mats. If you are training with moderate to heavy weights, you might want to build a proper deadlift platform. Here is a 'how to guide on building a weightlifting platform'.
Not fond of DIYing? That's OK. You can buy readymade ones instead. Here are some of the best readymade deadlifting platforms that we recommend. We also recommend Rogue crash cushions to further minimize the impact if you tend to drop weights.
They have a typical rubbery smell
The smell is not uncommon with any rubber product you buy. Even the EVA mats stink.
But horse stall mats have a strong, unbearable smell because they are made of recycled rubber, which is treated with a binding agent and some strong chemicals for processing.
Due to their overwhelming smell, a lot of people assume horse stall mats are toxic, probably carcinogenic. But, don't worry; they are totally safe for home use, even around kids and pets. So far, no official study has concluded that they are harmful to health.
Just like you, we too had our doubts regarding their safety. But, then we thought we should test them thoroughly instead of forming a biased conclusion.
We bought an air quality meter and tested the air quality of our home gym before and after installing the horse stall mats. Surprisingly, there was no significant change! Read our article on 'Are horse stall mats toxic' for more details.
We have also created an entire article on 'How to get the smell out of horse stall mats'. Soon, we will be coming up with more articles on how to clean them, etc.
Our Rating: 4.8/5 (we rarely give a 5-star rating to a product)
These are more expensive than horse stall mats because the company has specifically designed them for home or commercial use.
They do not stink as much as horse stall mats
If you have read our article on 'How to get the smell out of horse stall mats' you would have figured out that it takes some time and effort to make them bearable to have in your home. You will have to leave them in the sun for a few days. You may want to hose them down occasionally and flip them over every day, so both the sides get off-gassed equally.
The premium quality Fit Floor Mats, however, are treated with premium quality chemicals that help minimize the odor. You may not have to air them out at all or maybe you just have to leave them under the sun for a few hours or a day. They are perfect for people who do not have a lot of free space in the driveway or do not want to go through the lengthy process of cleaning, flipping, drying, etc.
They are specially designed for gyms
They are 6mm thick and the manufacturer states that they have used a special kind of manufacturing process that makes it extra tough and durable. It won't rupture or wear off any time soon, even when used in commercial gyms where they will be exposed to a lot of traffic and rough use.
They are anti-microbial
That's an interesting feature!
What it means is that the non-porous surface of these rubber mats won't absorb your sweat or any liquid spills. So, these mats won't start to stink any time soon. Plus, the non-porous surface can be easily wiped off with a damp cloth. You don't have to buy any special cleaning solution for it.
They are covered by 5-year limited warranty
The manufacturer claims that these mats can bear up to 50lbs of occasional weight drops. If you use heavy weights and if you intentionally drop weights, the warranty will get void.
The mats are quite dense, so we are pretty sure they can last for 5 or more years even if you train with heavy weights. But, make sure not to drop your weights unless it happens by accident.
If you tend to drop weights, you might want to add a layer of plywood underneath because even cement won't be able to bear 300lbs of weight being dropped on it.
Our Rating: 4.6/5
'Shark tooth' is the name given to highly dense, heavy-duty rubber mats. They are often used for semi-commercial and commercial purposes but can be used for home gyms. A lot of people, especially those who live in apartments, use them to absorb the noise and vibration created by washing machines, music systems, drilling equipment, etc.
Since they are ¾" thick, they provide maximum possible protection to the floor. Plus, they may not smell terrible as the horse stall mats do. You may still have to air them out for some time, which is pretty common with any rubber product you buy.
They are thick and heavy
A set of 2' X 3' shark tooth mat by Rubber-Cal weighs around 21.301 lbs. This weight plus 3.4" thickness is enough to keep them stable on the floor. Plus, they have an extremely coarse tractioned undersurface, so they won't slip off, unlike the puzzle mats that start to come apart with the slightest pressure.
Our Rating: 4.5/5 (only because they are quite expensive for what they are)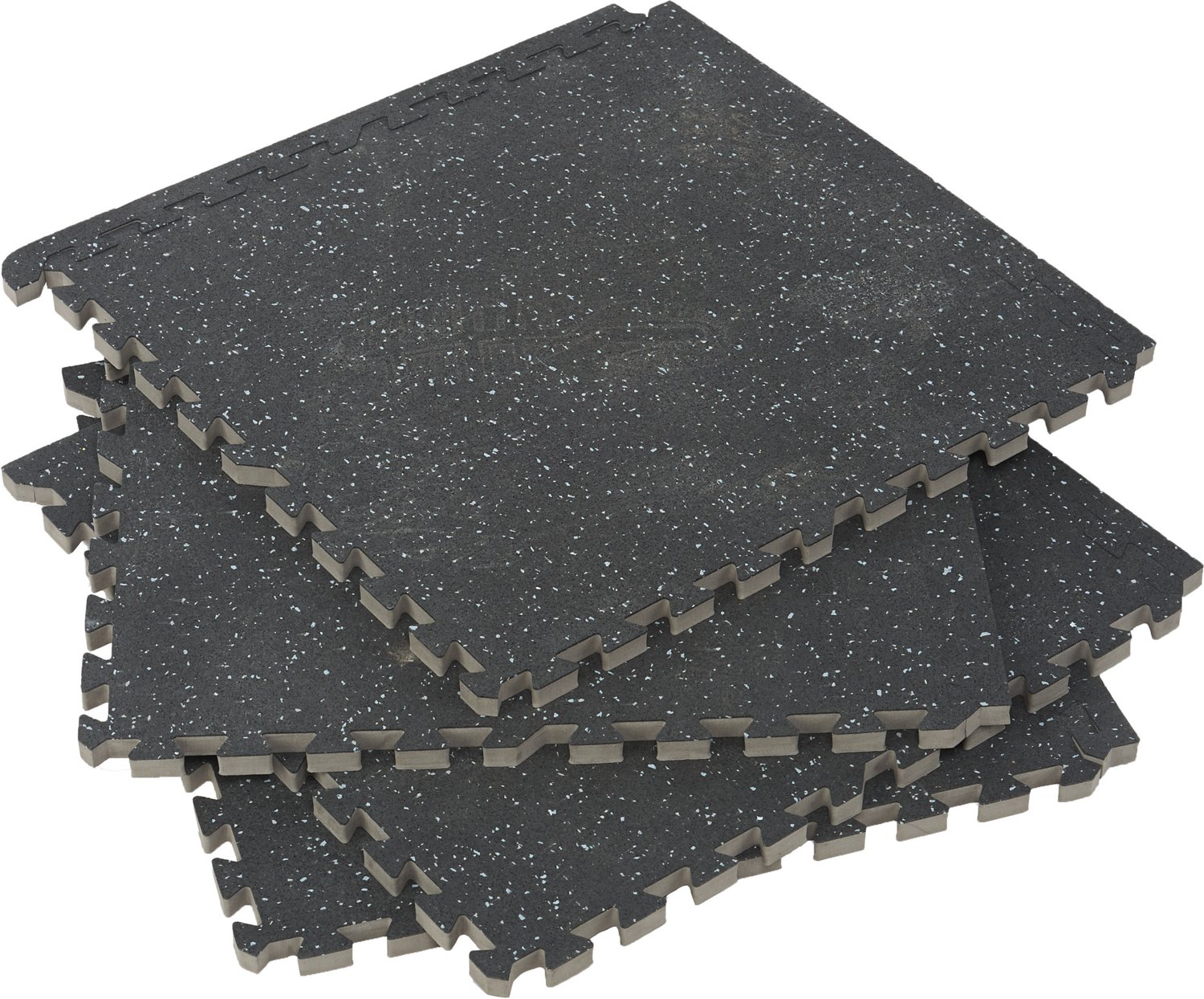 These are ¾" thick rubber tiles with an EVA foam base that provides a better cushioning than what standard rubber tiles do (as claimed by the manufacturer). Being thick, these tiles are great for cardio, weight-training, as well as for protecting your floor from shock and vibrations created by various home gym equipment such as treadmills, rowing machines, etc.
Features and specifications of BCG floor tiles
Sold as sets of 4. Each tile measures 24", so one set can be used to cover 4'X4'.
Made of EVA foam base with a top rubber layer.
Since they are puzzle tiles, you can easily assemble them.
Each tile is ¾" thick. The rubber cal-shark tooth mats and the horse stall mats we have reviewed in this article too have the same thickness and density.
Easily available at your local stores
That's the best thing about these home gym flooring tiles. Unlike horse stall mats, these are available at the local stores near you, including Academy. You can go to the store, check them out, and buy them right there, if you find them good enough for your workout needs.
BCG tiles are as thick and dense as rubber horse stall mats
As we mentioned above, both of them are ¾" thick. Both of them and the rubber-cal shark tooth mats are dense enough to provide adequate protection to your floor if you are training with light to medium weight.
If you are training with heavy weights, we would suggest you to go with horse stall mats instead. You can build a dedicated weightlifting platform as we mentioned above. The BCG tiles can be used below the deadlift platform.
Although these are dense and thick, we are not sure how long they will last when you drop weights on them. That's why horse stall mats are better for strength training.
These home gym flooring tiles are antimicrobial
That's what the manufacturer claims. It states that these tiles are designed to prevent the growth of bacteria, molds, and mildews, which are responsible for making your mats and your gym stink.
We don't know how much of this is true. And, we are not even bothered about it.
If you don't want your gym to stink, you should keep it clean instead of buying antimicrobial tiles. Here is how you can prevent your home gym from smelling.
The EVA base starts to separate from the rubber top after a few months
Honestly, we had expected this.
BCG home gym flooring tiles basically have a layer of EVA and a layer of rubber and they are glued together. After a few months, the top rubber layer will start peeling off from the base. If you are not quite frequent and rough in your home gym, these tiles could last up to three years. But, if you train hard, they won't last beyond two years. Horse stall mats and rubber-cal shark tooth mats have no such issues.
Thankfully, you can glue the rubber layer back. Just scrape away the old glue, wipe off the remaining glue with rubbing alcohol and use E6000 or similar glue to reattach them. This can make them last for another year or two.
Our Rating: 4.6/5